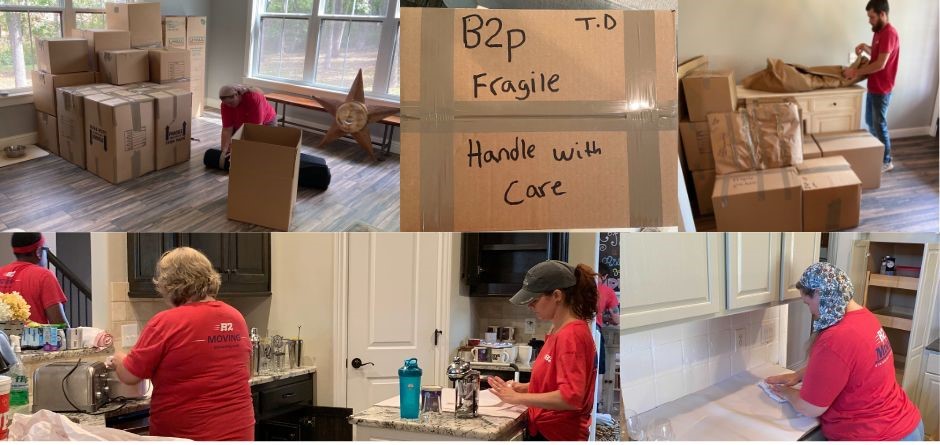 "At B2 Moving, we take pride in providing top-notch packing services to our customers. We guarantee the quality of our work and if something does happen to break during the move, we promise to make it right. Your peace of mind and satisfaction are our top priorities"
- Jesse and Adam
Owner / Operators
Moving can be a challenging and stressful experience, but it doesn't have to be. At B2 Moving, we understand the importance of making your move as seamless and stress-free as possible. That's why we offer top-notch packing services to help you get your belongings safely and efficiently packed and ready for your move.
What's the average price for packing services? On average, a 3-bedroom home will require approximately 50 boxes packed, including a mix of small, medium, large, dish packs, and wardrobe boxes. Our all-inclusive average cost for this service is $1,300 +/-, which covers packing labor, all boxes, wrapping paper, bubble wrap, and tape. Of course, the cost may vary depending on the specific items being packed, but we will always provide an accurate estimate before beginning the packing process.
Professionalism and Trust Our team of experienced and professional packers are dedicated to providing the best possible value and service. We do not use contractors or day laborers, so you can feel confident that your belongings will be in the hands of our trusted and skilled team. We take the time to properly wrap and pack each item, ensuring that your belongings are protected during the move.
Reputation: Family-owned moving companies take pride in their reputation and are often well-known in their local community. This means that they are more likely to provide excellent service and be more accountable to providing the best value possible.
In conclusion, if you're looking for a reliable, professional, and affordable packing service, look no further than B2 Moving. Our experienced team and transparent pricing make us the best choice for your next move. Contact us today to schedule a free estimate and let us help make your next move a stress-free experience.